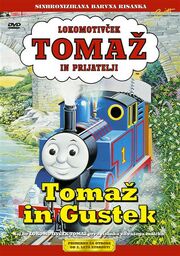 Thomas and Stepney is a Slovenian DVD containing four fourth season episodes.
Description
How to go along with passengers and polish? Where is the hatt? What happens to be rushed and Rusty has to help? Why is the train interrupted ? What makes Thomas excited with a particular letter? What about Henry and the elephant? All this and a few cartoons you find on this exciting DVD full of adventures.
Episodes
"Welcome to the Steamworks, my friend!"

This article is a stub. You can help by expanding it.