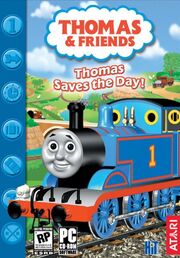 Thomas Saves the Day is a PC game developed by Stunt Puppy Entertainment, Inc. and published by Atari. The game was released in 2003.
Plot
A rainstorm has caused damage all over the Island of Sodor. Unfortunately, a shipment of supplies for Mr. Jolly's Chocolate Factory may be lost! Before Thomas can help, he needs to find extra coal, bring Harvey his hook to rescue Edward, help Percy find his cargo in a cave, retrieve missing cargo with Harold, and help the troublesome trucks sing a song.
Characters
Locations
Trivia
Goofs
Michael Angelis is not credited in the UK version for his voice talent.
Harvey is missing his siderods and his buffers are black.
Thomas has Edward's whistle sound.
Whenever Thomas reverses, his wheels spin forwards.
Thomas tells Salty that he has several trucks, but he actually only has one.
Jem Cole is referred to as "Jeb Cole".
Percy's sandboxes are painted an abnormally dark shade of green, his buffer housings are black, and his lamp is on the wrong lamp-iron.
Toby appears on the US cover of the game, despite him not appearing at all in the game, though it could be possible that he was meant to appear in the game in some way.