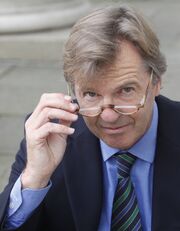 Thomas Naumann (born on 16th January in Hamburg) is a German actor and moderator who provided a voice for the German audiobooks of Thomas and Friends.
Voices
Trivia
He, Achim Schülke, Rainer Schmitt, Marion von Stengel, Andreas von der Meden, Franz Josef Steffens, Christian Stark, Manfred Steffen, Gerhart Hinze, Sascha Draeger, Henry König, Ben Hecker, Fabian Harloff, Eckart Dux, Harald Dietl and Holger Mahlich appeared in "Highway to Heaven".
Ad blocker interference detected!
Wikia is a free-to-use site that makes money from advertising. We have a modified experience for viewers using ad blockers

Wikia is not accessible if you've made further modifications. Remove the custom ad blocker rule(s) and the page will load as expected.