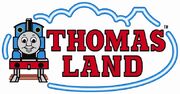 Thomas Land (Japanese: トーマスランド, Tōmasu Rando) is the first Thomas and Friends theme park. It is located at Fuji-Q High Land park, Yamanashi, Japan. It was opened in 1998.
Attractions
Rock'N'Roll Duncan
Thomas and Percy Fun Ride
The Exciting Cruise
Mischievous Cranky
Everybody Twist Tea-Cups Ride
Bulstrode Roller Ride
Thomas Land 3D Theatre
The Great Gatagogo Adventure
Happy Harold
Thomas Monument
Thomas Maze
Percy Monument
Gazebo
Story Creation Station
Trivia
 This was the first Thomas & Friends theme park in the world ever built.
At some point after the Japanese release of Hero of the Rails, the scene with Emily and Oliver in the Great Gatagogo Adventure ride was replaced with Hiro in his hiding spot. Oliver's model from this scene was moved to the end of the ride.
Sometime later on in 2015, the Thomas and Percy Fun Ride has gone through some redesign changes of new plans. By rebuilding and discontinuing some of the old scenes and characters, and reorganising the monument displays to different spots. Thus building and adding new additions to the ride.
Gallery
See also
External links