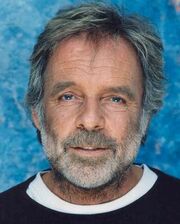 Thomas Fritsch (born 16 January 1944 in Dresden) is a German actor who provided a voice in the German version of Thomas and the Magic Railroad.
He is known for appearing in various German films and television shows, including "Adorable Julia", "Der Kommissar", "Derrick", and "Rivalen der Rennbahn". As a voice actor, he is best known for providing the German voices of Scar from "The Lion King", Steele from "Balto", Aslan from the "Chronicles of Narnia" films, Bonejangles from "Tim Burton's Corpse Bride", Diego from "Ice Age", Dr. Delbert Doppler from "Treasure Planet", and Goliath from "Gargoyles".
He is also the son of late German actor Willy Fritsch.
Voices
Songs
Trivia