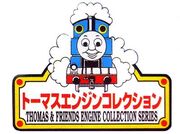 The Thomas Engine Collection Series (also abbreviated as TECS) was a range produced by Bandai from 1992 to 2005. Some items from the range were sold by the Ertl Company in the US in the Gold Rail range.
Engines
Vehicles
Rolling stock
Playsets
Cranky at Cargo Port
Thomas Station
Knapford Station with Breakdown Train
Rail Set
Mountain Quarry
Ffarquhar Station
Motorized Passenger Panorama Set with Old Coaches
Turntable Panorama Set
Harbour Panorama Set
Trivia
Henry, Gordon, Percy, Bill, Ben, and the narrow gauge engines' coupling rod arrangements are inaccurate.
Henrietta, Daisy and Duck's buffer beams are black.
Donald, Douglas and Oliver's running boards are red.
Peter Sam's model has his old funnel.
Thomas, Edward, Henry, Gordon, James, Toby and Duck's face sculpt were updated.
Henry's prototype model has his old shape.
Toby and Duck's prototype models didn't have couplers.
Toad's model portrays him facing forwards.
Gallery
Engines
Rolling Stock
Non-rail Vehicles
Sets
External links