"You miserable engine! Just look what you've done to our breakfast! Now I shall have to cook some more!"
―The stationmaster's wife scolding Thomas
Thomas Comes to Breakfast is the eighteenth episode of the second season.
Plot
Having run his branch line for many years, Thomas knows it very well. After another hard day of work, Thomas' driver jokes that Thomas could almost manage without him. Although the driver is joking, Thomas does not realise this and believes that he does not need a driver and becomes conceited. Later in the shed, Thomas boasts about not needing a driver to Percy and Toby. Both are shocked at the suggestion, and make it clear they would never even consider running without a driver. Thomas insists he is not scared, and does not listen when his friends try to insist that he should not try it.
The next morning, a fire lighter comes and starts up the engines' fires. Thomas wakes up as the warmth spreads through his boiler. When he spots Percy and Toby sleeping, he decides to take the opportunity to run by himself and prove them wrong by stopping and wheeshing in front of them. Thomas slowly starts moving along the track, but does not realise he is only moving because a careless cleaner has fiddled with his controls. Thomas quickly realizes his big mistake. He tries vainly to wheesh and to stop, then soon discovers he can do nothing without a driver and keeps going forward. At the end of the tracks sits the stationmaster's house, where he and his family were just sitting down for breakfast. Thomas crashes through the end buffers, the fence, a bush and the front window leaving him peering into the dining room at the family. The house rocks and shattered plaster and glass is everywhere. Both the stationmaster and his wife are furious at Thomas for crashing into their house and ruining their breakfast in the process. The stationmaster's wife slams the door to the dining room shut, causing more plaster to fall on Thomas, making him feel depressed.
After workmen lay rails through the garden, Donald and Douglas arrive and pull Thomas free of the house. Although Thomas is free, he brings pieces of fence, bush and windowframe with him and his front is left badly twisted. The twins leave laughing while Thomas, now in disgrace, is left behind miserable.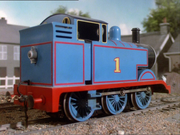 Back at the shed, the Fat Controller furiously scolds Thomas for his reckless conduct and sends him to the Works for a long repair. As a result, a diesel railcar is going to be brought in to run his branch line. Thomas is shocked that a diesel will be replacing him, and the Fat Controller informs him that diesels always stay in the sheds unless wanted and never crash into stationmasters' houses for breakfast.
Characters
Locations
Trivia
Goofs
Merchandise
In Other Languages
View content
| Language | Title |
| --- | --- |
| Brazilian Portuguese | Uma Visita Inesperada/Thomas Vem Ao Café da Manhã |
| Chinese | 托马斯来吃早餐 |
| Czech | Tomáš Jde na Snídani |
| Danish | Thomas Kommer til Morgenmad |
| Dutch | Thomas Gaat Ontbijten |
| Finnish | Tuomas Tulee Aamiaiselle |
| German | Ein Unwillkommener Frühstücksgast |
| Hungarian | Thomas Reggelije |
| Italian | La Locomotiva Presuntuosa |
| Japanese | トーマスあさごはんにおじゃま |
| Korean | 역장님댁을 무너뜨린 토마스 |
| Norwegian | Thomas Kommer til Frokost |
| Polish | Tomek Wpada na Śniadanie |
| Romanian | Thomas Vine la Micul Dejun |
| Russian | Томас приходит на завтрак |
| Serbian | Tomas na Doručku |
| Slovak | Thomas Ide na Raňajky |
| Slovenian | Tomaž Pride na Zajtrk |
| Spanish | La Visita de Thomas |
| Swedish | Thomas Kommer til Frukost |
| Thai | โธมัสชนบ้านนายสถานี |
| Ukrainian | Томас прибуває на сніданок |
| Welsh | Tomos mewn Trafferthion |
Home Media Releases
View content
UK
DVD Packs
The Fogman and The Very Best of Thomas and Friends Double Pack
US
DVD Boxsets
AUS
The Deputation and other Stories
The Very Best of Thomas and Friends
The Complete Series 2
DVD Boxsets
Classic Collection
Series One and Series Two Double Pack
JPN
PHL
HRV
GER
NZ
The Deputation and Other Stories
NOR
SA
UKR
NL
ITA
IND
BRA
Latin America
DVD Boxsets
SER
MYS
ROM
DVD Packs
FIN
CHN
THA
---