Home
Talk

107
4,372pages on
this wiki
Welcome to The Thomas the Tank Engine Wikia!
We have more than 4,372 pages about anything Thomas - including the Railway Series, the television series, the annuals, and the magazines.
About • Community • Tutorial • Help pages • Stub pages
Andrew Brenner on TTTE Wikia:
"I must say I find the Thomas Wiki site extremely useful for having everything so well categorised and searchable. There is so much Thomas material to keep track of and I am trying to keep things consistent, so it is great to have a way to search past stories or character facts and history."
— Andrew Brenner, current headwriter.
If you are new, or old, to our Wikia, be sure to check out our rules. Also be sure to check out our announcements and current events, to find out what is happening on our wiki. Thank you - TTTE Wikia Staff.
Do you like Mark Moraghan's narration?
Meet the Steam Team!
Featured Article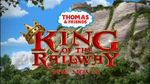 Warning! This page contains MAJOR spoilers. Caution is advised.
King of the Railway is a special slated for release in September 2013.
Sir Robert Norramby, the Earl of Sodor, returns to restore Ulfstead Castle. All the engines have a job to do, but poor old Stephen does not think he will be able to help. Thomas helps Stephen be useful by helping him find a missing crown in a mine. But Stephen gets lost in the mine and Thomas has to save him.
Read more...

TUGS Wiki

Please visit the TUGS wiki, based on the sister series of Thomas and Friends.

Shining Time Station Wiki

Please visit the Shining Time Station wiki, based on the spin-off series of Thomas and Friends.