Home
Talk

134
5,644pages on
this wiki
See what
SteamTeam
has been up to with his Recent Purchases video!
Which of the core characters would you like to see less of?
Featured Article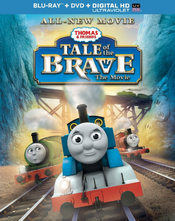 Warning! This page contains MAJOR spoilers. Caution is advised.
Tale of the Brave is a special released on September 16th, 2014 in the US on DVD and Blu-ray and September 1st in the UK.
When Thomas spots some giant footprints his friend Percy quickly becomes convinced that there is a monster on the island. When an unusual engine, with sloping boilers, first appears, Percy believes he must be the monster but the new engine proves to be a good friend and ally. He even helps Percy discover what it really means to be brave.
Read more...

Meet the newest characters!
See who's recently returned to the series!
Meet the Steam Team!
TUGS Wiki

Please visit the TUGS wiki, based on the sister series of Thomas and Friends.

Shining Time Station Wiki

Please visit the Shining Time Station wiki, based on the spin-off series of Thomas and Friends.