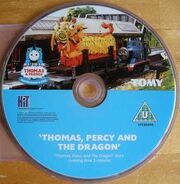 Thomas, Percy and the Dragon is a promotional UK and Japanese DVD featuring one third season episode. The DVD came with the Thomas and the Chinese Dragon Motor Road and Rail set in the UK and the Plarail Thomas, Percy and the Chinese Dragon Set in Japan based on the episode of the same name.
Episode
Trivia
The episode is cropped to 16:9 widescreen.
Bonus Features
Thomas and Friends DVD trailer
Thomas Motor Road and Rail commercial
"Welcome to the Steamworks, my friend!"

This article is a stub. You can help by expanding it.
Ad blocker interference detected!
Wikia is a free-to-use site that makes money from advertising. We have a modified experience for viewers using ad blockers

Wikia is not accessible if you've made further modifications. Remove the custom ad blocker rule(s) and the page will load as expected.