"Let's try them, now there's a taste to savour, Thomas and the crane driver have invented a new flavour!"
— Sodor Supersnacks worker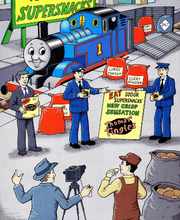 Thomas' Tingles is a flavour of crisps made by Sodor Supersnacks. The flavour was discovered by accident when a sack of curry powder was spilled into a container of crisps. The flavour was then named Thomas' Tingles after Thomas.