"He went to an Engine Workshop and they showed him all sorts of tank engines. There were big ones, and little ones. Some looked happy, some looked sad, and some looked at him anxiously hoping he would choose them. At last he saw a smart little green engine, with four wheels."
— The Author, Trouble in the Shed, Troublesome Engines
Percy's Friends
Percy's Friends
These engines appeared at the Workshop where Percy used to live before arriving to Sodor. Sir Topham Hatt came to the Workshop to purchase a new tank engine, when the big engines went on strike and Thomas left to run his branch line. They were described as looking "big, little, happy, sad, and anxious". The large blue tank engine slightly resembles Thomas with extended side tanks, and the red engine appears similar to that of Gordon. Also the green engine slightly resembles Edward.
In addition to these, other engines were seen in the My Thomas Story Library, where there are two other engines; one maroon and the other blue with red lining. The maroon one vaguely resembles Percy, and the blue one vaguely resembles Wilbert.
Appearances
Trivia
Gallery
Edward's Friends
Edward's Friends
When Edward was sent to the works to be mended, he met three engines. The first engine, on Edward's right, is a silver electric multiple-unit. Several of these EMUs are still used on branch line services in Britain. The second engine, on Edward's left, is a tender engine and who strongly resembles a green version of Murdoch with green smoke deflectors. Murdoch's basis was the last make of steam engines to be built for British Railways, with the last one built in 1960. Finally, the last engine can be seen behind Edward, however only his smoke-box and eyes are visible. Edward was quick to befriend these engines, due to their positive attitude towards him.
Appearances
The Blue Engine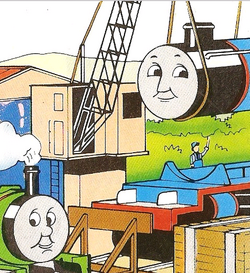 The Blue Engine
The Blue Engine was a tender engine, who was undergoing an overhaul similar to Henry's new design. He was first seen when Henry was being escorted to the Works by Percy. Henry was shocked to learn that the Works was full of ill engines.
This engine resembles a blue version of Henry, with slightly different cylinders and paint work.
Appearances