The Works Diesel
Talk

3
4,978pages on
this wiki
"Rescued by a Diesel! It's degrading. I won't go!"
— James, James and the Diesel Engines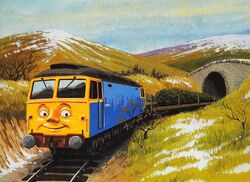 The Works Diesel
Class: BR Class 47
Designer: Brush Traction and British Railways' Crewe Works
Builder: Brush Traction and British Railways' Crewe Works
Configuration: Co-Co
The Works Diesel is a fan given term for a Diesel engine who once came from Crovan's Gate to rescue James. Whether or not he is based at Crovan's Gate is unclear.
Bio
James and the Diesel Engines
The Works Diesel rescued James after his injector failed, and managed to eradicate James' dislike of Diesels with his charismatic persona.
Thomas and the Missing Christmas Tree
The Works Diesel brought the Christmas tree for Thomas from the Other Railway.
Henry and the Express
The Works Diesel was seen talking to Gordon at Barrow-in-Furness.
Persona
Although the Works Diesel has not spoken as of yet, he is described as being friendly and is impossible to not like - even James, who retained a hearty dislike of Diesels, couldn't help but befriend him before the two had even reached the Works.
Basis
The Works Diesel is based on a BR Class 47 "Brush" Co-Co.
Livery
The Works Diesel is painted in a British Rail "Rail Blue" livery with yellow warning panels.
Appearances
Gallery