The Windmills
Talk

6
4,975pages on
this wiki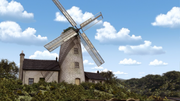 There are three known windmills on Sodor. One is located beside Toby's Old Tramway, and was first seen in the first season and in the opening of the "Classic Series". The second was first seen in the fifth season  , and can now be seen in the opening of the "New Series". The third windmill, Toby's Windmill, was first seen in the episode of the same name.
Trivia
Footage of the windmill from Thomas and Bertie was used to make the opening from the first - seventh seasons.
Percy once took the oil painter to the windmill in the ninth season while looking for the Spirit of Sodor, but the painter complained that it was too round.
Thomas was sometimes mistakenly shown on the line that runs past the windmill.
A slightly different model of the first windmill was used in Thomas and the Magic Railroad.
The message by the wall that Mr. Conductor saw said: Stoke up the magic in the mountain and the Lady will smile. Then watch the swirls that spin so well.
The third windmill's model is currently on display at Drayton Manor.
Merchandise
Gallery
Merchandise Gallery