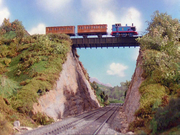 The Valley Bridge is a short bridge that runs over a valley situated on the Main Line, the bridge has a single railway line which crosses over a double railway line underneath it.
The bridge appeared regularly throughout the third season, but has not been seen since.
Possible Goof
Whenever the bridge appeared, the tracks end behind the bridge.
Gallery
Ad blocker interference detected!
Wikia is a free-to-use site that makes money from advertising. We have a modified experience for viewers using ad blockers

Wikia is not accessible if you've made further modifications. Remove the custom ad blocker rule(s) and the page will load as expected.