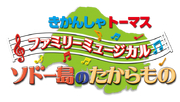 The Treasure of Sodor (Japanese: ソドー島のたからもの) is a live stage musical show in Japan for 2014 - Present.
Plot
Thomas is looking for the location of some treasure which appears on an old map of the Island of Sodor, but he gets lost on an unknown line. When Percy and Ken, an apprentice driver, find Thomas in a dark forest, the treasure of Sodor is revealed.
Characters
Main
Ken (New driver from Japan)
Catherine (Veteran driver's daughter)
Thomas's driver
Percy's driver
Dr. Livingston (mentioned)
Cameo
Songs
Merchandise
Gallery
Links
Ad blocker interference detected!
Wikia is a free-to-use site that makes money from advertising. We have a modified experience for viewers using ad blockers

Wikia is not accessible if you've made further modifications. Remove the custom ad blocker rule(s) and the page will load as expected.