The Tomica World Show were promotional videos included with Tomica World items.
First release (0619)
The first video has Mr. Tomica (Mr. T) giving a tour of Tomica World, including a look at Thomas and Friends, regular Tomica World trains, quizzes, and rail safety tips. The video also includes one song and first season episode.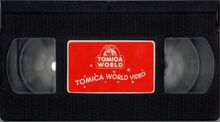 Second release (0700)
In the second video, Mr. T brings a boy named Kevin (David in the US version) to look and play around Tomica World. The video includes footage of real trains in action plus one Thomas song.
Trivia
After Kevin/David and Mr. T's car race, a tree is knocked over.
The US version includes footage of an Amtrak train whilst the UK includes a Bullet Train and Eurostar.
The US version includes product demonstrations of the following sets:
Tomica World Large Set
IR/C set
The UK version demonstrates the following sets:
Loop Road Set
US Patrol Set
Bucket Set