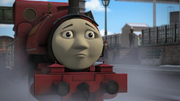 The depot
is a location on the 
Skarloey Railway
. It is between
Cros-ny-Cuirn
 and 
Bluebell Valley Station
.
This is where the little engines collect their trains. After a hard day's work, they come to the depot and sleep in the sheds. They sometimes rest in the sheds during the day. The sheds consist of two brick sheds, one single lined, one double and a double lined open wooden shed. There is also a goods station here and Mr. Percival's House is located just opposite. Lots of coaches and wagons have been kept here and the depot is usually quite busy. Since the sixteenth season, a standard gauge line which was a part of Stepney's Branch Line has been added and runs through the depot.
Previously, the little engines used to rest and sleep at Crovan's Gate sheds, their rolling stock was also kept there. However, when the number of engines and rolling stock on the Skarloey Railway increased, the sheds and yard were becoming a bit too small. So the depot was made to accommodate all the little engines, and their rolling stock.
Trivia
Gallery
Ad blocker interference detected!
Wikia is a free-to-use site that makes money from advertising. We have a modified experience for viewers using ad blockers

Wikia is not accessible if you've made further modifications. Remove the custom ad blocker rule(s) and the page will load as expected.