The Signwriter's Van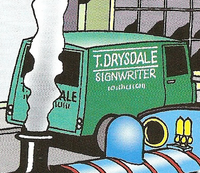 Mr. T. Drysdale the signwriter owns a green van with his company's details on the side which he uses to drive to his jobs. It is somewhat similar to the Mail and Bakery Vans.
Basis
The Signwriter's Van is based on the vans built by Morris and Bedford in the 1940s and the 1950s. The Sodor Mail Van and Sodor Bakery Van share the same basis.
Appearances
Magazines
Gallery
Ad blocker interference detected!
Wikia is a free-to-use site that makes money from advertising. We have a modified experience for viewers using ad blockers

Wikia is not accessible if you've made further modifications. Remove the custom ad blocker rule(s) and the page will load as expected.