The Scrap Engine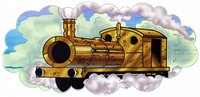 The Scrap Engine appeared in Thomas' dream after he visited the scrapyard one day. In the dream, the scrap engine rattled down the main line blowing his wonky whistle.
A scrap engine just like the one in Thomas' dream was later put together from old parts at the scrapyard by a sculptor. It was then put into a modern art exhibition.
The scrap engine appears in the 2005 magazine story, Eerie Engine.