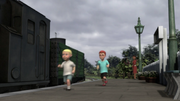 The School has made numerous appearances since the fifth season. It has a small platform that leads to a school yard.
Gordon once had a nightmare that he was turned into a playground at the school.
Trivia
In real life, it would be illegal to have a rail line running so close to a school.
Gallery