The Red Engine
Comments

0
5,188pages on
this wiki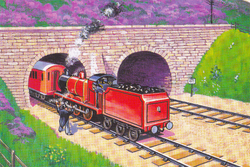 The Red Engine
Class: L&YR Class 25 with a Fowler tender
Builder: Horwich Works
Designer: George Hughes
Configuration: 2-6-0, originally 0-6-0
The Red Engine is a tender engine.
Bio
The red engine tried to push Henry out of a tunnel, but without success.
It later appeared in Henry's Sneeze. It is unknown what happened to the engine following this event.
Persona
The Red Engine seems to be of a helpful persona, as he tried to push Henry from the tunnel without fuss.
Basis
The Red Engine is based on the L&YR Class 25 with an added pony truck and a Fowler tender, very much like James.
Livery
The Red Engine is painted in the NWR's crimson livery with yellow and black lining. He has crimson wheels and a crimson dome.
Appearances
Trivia
The Red Engine was originally drawn to be James as a goof. However, children wrote to the Reverend asking why James was red before he got painted in the third book. The Reverend then decided that the Red Engine was a different character altogether.