The Rally Cars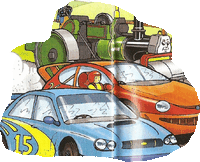 The Rally Cars arrived from the Mainland by boat to participate in a road race across the Island. Two cars were seen: a blue car (number fifteen) and a red car (number twenty-six).
Basis
The blue car is based on a Subaru Impreza rally car and the orange car seems to be loosely based on a Dodge/Chrysler/Plymoth Neon.
Appearances
Magazines
Ad blocker interference detected!
Wikia is a free-to-use site that makes money from advertising. We have a modified experience for viewers using ad blockers

Wikia is not accessible if you've made further modifications. Remove the custom ad blocker rule(s) and the page will load as expected.