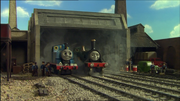 Crovan's Gate Works, usually known as the Works, the Foundry, or the Fitter's Yard, are where the railway engines and rolling stock are serviced and repaired. In the Railway Series, the Works are situated at Crovan's Gate, opposite the Skarloey Railway.
In the third season, the Works appeared to be located next to Ffarquhar Sheds.
In the seventh season, the Works were located at Knapford Sheds.
Since the eighth season, the Works were located next to Tidmouth Sheds. They were better known as the Repair Yard, the Fitter's Yard, or the Menders.
There was also a repair yard at the Shunting Yards.
However, with the introduction of the Sodor Steamworks, it is unknown what became of the former site of the Railway Works. Since rolling stock has been seen outside it throughout the CGI series, it is probably now a carriage and wagon shed.
Gallery