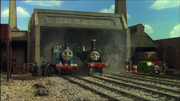 Crovan's Gate Works, usually known as the Works, the Foundry, or the Fitter's Yard, are where the railway engines and rolling stock are serviced and repaired. In the Railway Series, the Works are situated at Crovan's Gate, opposite the Skarloey Railway.
In the third season, the Works appeared to be located next to Ffarquhar Sheds.
In the seventh season, the Works were located at Knapford Sheds.
Since the eighth season, the Works were located next to Tidmouth Sheds. They were better known as the Repair Yard, the Fitter's Yard, or the Menders.
There was also a repair yard at the Shunting Yards.
However, with the introduction of the Sodor Steamworks, it is unknown what became of the former site of the Railway Works. Since rolling stock has been seen outside it throughout the CGI series, it is probably now a carriage and wagon shed.
Trivia
According to the 1958 Railway Series map of Sodor , "Engines are made and repaired at Crovan's Gate". However, no known engines are documented as having been built there. 
Gallery
Ad blocker interference detected!
Wikia is a free-to-use site that makes money from advertising. We have a modified experience for viewers using ad blockers

Wikia is not accessible if you've made further modifications. Remove the custom ad blocker rule(s) and the page will load as expected.