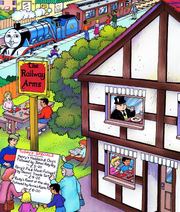 The Railway Arms is a restaurant located close to a railway station, possibly on the main line. The restaurant serves food which is extremely popular, especially amongst the railway staff and the Fat Controller himself.
The specials are named after engines and rolling stock on the railway. These include: Henry's Haddock and Chips, James' Roly Poly, Percy's Pie and Mash, Thomas's Treacle Tart, Rusty's Roast of the Day and Annie's Apple Pie.
The pub appears in the 2003 magazine story, Fast Food!.
Gallery
Ad blocker interference detected!
Wikia is a free-to-use site that makes money from advertising. We have a modified experience for viewers using ad blockers

Wikia is not accessible if you've made further modifications. Remove the custom ad blocker rule(s) and the page will load as expected.