This article is about the barge. You may be looking for the DVD.
The Queen Of Sodor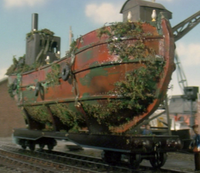 The Queen of Sodor was a leaky old barge.
James was once tricked by Gordon into taking her to the scrapyards. James accidentally crashed the Queen of Sodor through a pipe, sending sludge all over the boat and the tracks.
Appearances
Gallery