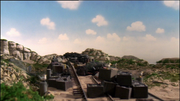 The Pier is a platform extending from the seaside to the water. It supported by pillars and often provides access to boats and ships. Once, a set of faulty points switched Thomas onto the old pier line and he fell into the water. The Fat Controller sent Arthur to come to his rescue. A tidal pool is located near here.
It is on the Norramby Branch Line, located west of Norramby near the fishing village.
In the magazines, the "Halls of Mirrors", and lifeboat station is located here. The Pier Train, a small electric engine, travels up and down with passengers on the pleasure pier all day.
It also appears in the magazine stories, Thomas Braves the Waves, Mirror, Mirror, Snap Happy, False Alarm, Boat Afloat, Jim's Jungle Ride!, and the Ice Cream Special. A poster of the pier run was attached to Oliver's funnel in the magazine story, Flag Flying! also.
Gallery
Ad blocker interference detected!
Wikia is a free-to-use site that makes money from advertising. We have a modified experience for viewers using ad blockers

Wikia is not accessible if you've made further modifications. Remove the custom ad blocker rule(s) and the page will load as expected.