The Open-Topped Carriages are carriages without roofs.
National Railway Museum Carriage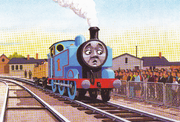 Two replicas of original Open-Topped Carriages built in 1930 are located at the National Railway Museum and are used for demonstration runs or display behind Stephenson's Rocket. Thomas used one when he was running demonstrations in Thomas and the Great Railway Show. It was painted cream.
Blue Carriage
Sir Topham Hatt's
Open-Topped Carriage
The first open-topped carriage is the oldest railway coach on the Fat Controller's Railway. When Sir Topham Hatt was young, Edward always took him aboard this old coach on his birthday. However, the open-topped carriage somehow went missing, but Winston and Thomas found the old carriage in an overgrown siding and took it to the Sodor Steamworks for restoration. Once restored, Edward brought it to Knapford as a birthday surprise for the Fat Controller. It is painted turquoise.
It first appeared in the sixteenth season episode, Happy Birthday Sir! and again in King of the Railway pulled by Stephen for the celebration of Ulfstead Castle being reopened. A similar carriage was also seen being pulled by Stephen through-out the seventeenth and nineteenth seasons. In the seventeenth season, Stephen also gained a second blue carriage.
Millie's Carriages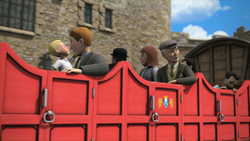 Millie's Open-Topped Carriages
The third and fourth open-topped carriages are used by Millie to take people on tours of Ulfstead Castle's grounds. They are painted red and carry Sir Robert Norramby's crest on the side. There is another narrow gauge open-topped carriage which is identical to Sir Topham Hatt's in colour.
They have appeared in King of the Railway as well as the seventeenth and eighteenth seasons. Millie also gained a third carriage in the twentieth season.
Basis
The open-topped carriages are based on Liverpool & Manchester Railway Third Class four-wheeled open-topped carriages from the 1830s.
Appearances
Trivia
Throughout the seventeenth season and King of the Railway, Sir Topham Hatt's open-topped carriage inconsistently changes in height.
In Percy's Lucky Day and the nineteenth season, Stephen gains a second blue carriage.
To date three open-topped carriages have been named, these being Ada, Jane and Mabel.
Merchandise
Gallery
Merchandise Gallery
Ad blocker interference detected!
Wikia is a free-to-use site that makes money from advertising. We have a modified experience for viewers using ad blockers

Wikia is not accessible if you've made further modifications. Remove the custom ad blocker rule(s) and the page will load as expected.