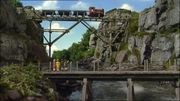 The Old Wooden Bridge is a bridge situated on the Cracky Track between Ulfstead Castle and Boulder Quarry. A large river flows underneath the bridge.
The bridge first appeared in the seventh season and last appeared in the tenth season. Rusty once rescued Duncan here because the bridge was unsafe. The bridge was later rebuilt after it collapsed.
Trivia
After the rebuild of the bridge, it became smaller.
In the tenth season, a public footbridge was built nearby.
Ad blocker interference detected!
Wikia is a free-to-use site that makes money from advertising. We have a modified experience for viewers using ad blockers

Wikia is not accessible if you've made further modifications. Remove the custom ad blocker rule(s) and the page will load as expected.