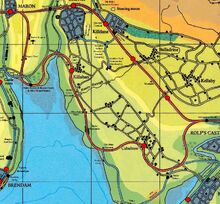 The Main Line Loop
begins near
Maron
on
the main line
and ends at the
Whispering Woods
on the main line west of
Kirk Ronan Junction
and
Kellsthorpe Road
. 
Operations and Stations
The line begins near Maron and calls at the Sodor Search and Rescue Centre, Killaban and Cabalnoo.
Other notable places along the line include, Misty Island Tunnel, Jem Cole's Yard, Sodor Flour Mills, Sodor Maritime Museum an abandonded mine and a repair yard.
Engines
Rolling Stock
Other
Gallery
Ad blocker interference detected!
Wikia is a free-to-use site that makes money from advertising. We have a modified experience for viewers using ad blockers

Wikia is not accessible if you've made further modifications. Remove the custom ad blocker rule(s) and the page will load as expected.