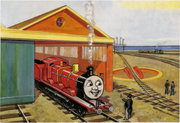 A little blue tank engine can be seen at Tidmouth Yard in a few illustrations from James the Red Engine. He once teased James about needing bootlaces to mend a hole in his coaches.
It is unknown what happened to the engine afterwards.
His role was replaced by Thomas in the television series adaptation of the story and by the Dark Green Tank Engine in the pop-up version of the story.
Basis
The tank engine's basis is unknown, but he appears to have side tanks from his cab to half-way along his boiler and might have a 0-6-2 wheel arrangement. He also resembles a North Eastern Railway N8/N9/N10 or a London, Tilbury and Southend 69 Class tank.
Appearance
It also possibly appeared in James (Story libary book).
Gallery