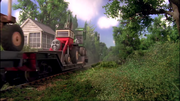 The Lightning Tree is a tall tree located at Maithwaite Forest, so named because it was struck by lightning.
The tree was in danger of falling so Jack and The Pack were sent to fix it. Max and Monty were racing recklessly and crashed into the tree. Alfie, Kelly, and Oliver managed to keep the tree up long enough for Jack to get the props Thomas had brought to support it.
It only appeared in A Tale for Thomas.
"Welcome to the Steamworks, my friend!"

This article is a stub. You can help by expanding it.
Ad blocker interference detected!
Wikia is a free-to-use site that makes money from advertising. We have a modified experience for viewers using ad blockers

Wikia is not accessible if you've made further modifications. Remove the custom ad blocker rule(s) and the page will load as expected.