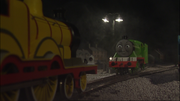 The Intersection is a location on the North Western Railway. Emily once saved Oliver here because he could not get past the junction in time.
It appears in the seventh, eighth, and ninth seasons.
Appearances
Trivia
In the seventh and eighth seasons it has one line intersecting with the other line, but in the ninth season it has three lines intersecting with three other lines, and there is a signal.
Gallery