The Ice-Cream Van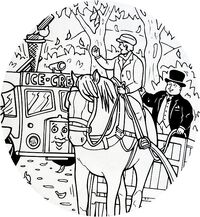 The Ice-Cream Van is a character from the Magazines, who spends most of his time delivering ice-cream on Sodor.
Bio
The Ice Cream Van sells ice cream during the school summer holidays. When the Ice Cream Van's freezer battery was running low on electricity and the ice cream started to melt, so Daisy was sent to collect a brand new battery. Fortunately, Daisy managed to get the battery to him just in time.
Later, he helped Sir Topham Hatt prepare for his big speech about the railway industry.
Livery
The Ice-cream Van is painted bright yellow and orange, with red lining. He has an ice-cream on top of his roof, as well as a large sign on his front reading "ICE-CREAM".
Appearances
Gallery