"Some of th' engines up in the Highland waur yer coloor. 'Jocks' we use tae caa them."
―Douglas to Jock, Jock the New Engine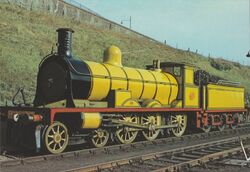 The Highland Engines
Builder: Sharp, Stewart and Company
Configuration: 4-6-0
The Highland Engines worked on the Highland Railway in Scotland. These engines were painted in a yellow-green livery, and Donald and Douglas nicknamed them Jocks.
When Douglas saw a new engine on the Arlesdale Railway with similar paintwork, it reminded him of his days in Scotland and suggested the name "Jock" for the new engine. The engine was delighted, and the Small Controller happily christened the engine "Jock."
Appearance
Survivors
There is only one ex-Highland Railway locomotive in preservation, Jones Goods 4-6-0 no. 103. She was originally in the Glasgow Transport Museum. Following the museum's closure, she was relocated to the Riverside Museum, also in Glasgow.
Ad blocker interference detected!
Wikia is a free-to-use site that makes money from advertising. We have a modified experience for viewers using ad blockers

Wikia is not accessible if you've made further modifications. Remove the custom ad blocker rule(s) and the page will load as expected.