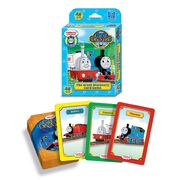 The Great Discovery Card Game is a pack of forty-eight jumbo cards produced by Briarpatch.
Games
The set has instructions for four different card games. "Stanley Comes Aboard" is a fast-paced, card-swapping game perfect for the youngest Thomas fans. "Thomas and Friends Memory Game" is a take on the classic memory game, where you flip two cards to find a match. The object of "Thomas and Friends Snap Game" is to get all of the cards. Finally, The Great Discovery deck can be used to play the classic game of "Go Fish".
Characters
The deck features the following characters, each on a red, blue, green, and yellow card:
Ad blocker interference detected!
Wikia is a free-to-use site that makes money from advertising. We have a modified experience for viewers using ad blockers

Wikia is not accessible if you've made further modifications. Remove the custom ad blocker rule(s) and the page will load as expected.