The Foreign Engines
Talk

4
4,379pages on
this wiki
This article is about the group of engines. You may be looking for the tender engine.
In the Railway Series, many characters from the Other Railway made minor appearances.
Percy's Friends
"Silly things."
— Henry, The Eight Famous Engines
Percy's Friends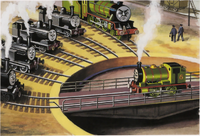 These four are tank engines from the Other Railway. Percy once met them at Vicarstown and told them of the time he braved a flood to help Thomas, when Henry came along and told them to go away. They were replaced by Bill and Ben in the television series.
Basis
These engines are based on 1377 Class 1F 0-6-0 tank engines, NER Class E1's, and LSWR G6 Class tank engines.
Livery
The tank engines are painted in the unlined BR black livery.
Appearances
Jinty and Pug's Companions
Jinty and Pug's Companions
No Image
These engines came to Sodor with Jinty and Pug to run the line while the engines were on display in England.
Livery
They are painted in the B.R.'s black livery.