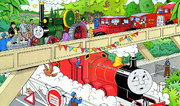 The Flyover is located just outside of Tidmouth.
Two inspectors were tasked with monitoring a level crossing to check if there was enough traffic to warrant a flyover to avoid delays. They decide that a flyover is needed and the crossing is closed for several months while construction took place. Finally, George is called to level the road surface.
Eventually, the flyover is completed and is opened by Sir Topham Hatt. Trevor was the first vehicle to use it, followed by Caroline, the Sodor Mail Van and Bertie.
The flyover first appeared in the 2001 magazine story, The Flyover!
Gallery
Ad blocker interference detected!
Wikia is a free-to-use site that makes money from advertising. We have a modified experience for viewers using ad blockers

Wikia is not accessible if you've made further modifications. Remove the custom ad blocker rule(s) and the page will load as expected.