The Float Lorry
Comments

0
5,645pages on
this wiki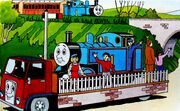 The Float Lorry is a red lorry who only appeared in the magazines.
Bio
Stephen and Bridget Hatt made a float for a carnival on Thomas' Branch Line. The Float Lorry was then chosen to carry the float with a replica of Thomas, which Stephen and Bridget built themselves. On the day of the carnival, as Thomas past the procession, he spies the float that looks just like him.
Appearances
Trivia
It looks similar to that of a Horrid Lorry. However, the Float Lorry was introduced four months before the fifth season episode, Horrid Lorry, in which the Horrid Lorries made their début appearances.