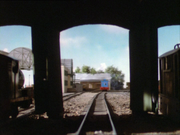 The Ffarquhar Stationmaster's House is the home of the Ffarquhar Stationmaster and his family.
History
When a careless cleaner fiddled with Thomas' controls causing him to move on his own, he crashed into the house through the dining room window. It was repaired after the accident.
In The Railway Series, it is located by Ffarquhar. Though in the television series, it is located by Tidmouth by the yard.
It was later mentioned by James in Journey Beyond Sodor.
Appearances
Specials:
Merchandise
Ad blocker interference detected!
Wikia is a free-to-use site that makes money from advertising. We have a modified experience for viewers using ad blockers

Wikia is not accessible if you've made further modifications. Remove the custom ad blocker rule(s) and the page will load as expected.