"Hooray for Duncan's mistake!"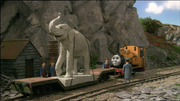 For the opening of Elephant Park, Sir Topham Hatt told Duncan to collect an elephant statue. Duncan, being Duncan, left without a brake van and ended up running out of control. He crashed near Elephant Park and the statue flew into the park's pond. However, the statue still remains in the pond due to popular opinion.
Duncan mentions it in the eighteenth season episode, Emily Saves the World.
Merchandising
Gallery