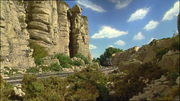 The Eagle of the Mountains is a landmark on Sodor. It is called that because a carving of an eagle is seen on the side of the mountain.
Thomas found this as the first clue for finding the lost pirate treasure of Sodor.
It only appeared in the tenth season episode, Thomas and the Treasure.
Gallery