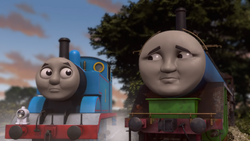 The Duke and Duchess of Boxford
The Duke and Duchess of Boxford often visit Sodor with their engine, Spencer. However since the fifteenth season they appear to live at their summer house. 
Bio
The Duke and Duchess once bought a holiday home on Sodor and had Edward take their furniture to the house. The engines later helped to build them another summer house. They are good friends with Sir Topham and Lady Hatt and were among the important visitors who attended Dowager Hatt's Sodor tour and party at Knapford in the sixteenth season.
They attended Sir Robert Norramby's Christmas Luncheon.
Appearances
Voice Actors
Duke of Boxford:
Duchess of Boxford:
Trivia
Gallery