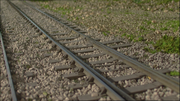 The Difficult Bend is a stretch of railway line located near Kellsthorpe.
Thomas had trouble before going through it, but Annie and Clarabel helped him out. However, he had to take regular coaches through the bend when Annie and Clarabel were being repaired. And because he was worrying so much, he crashed into a siding. Thomas later overcame his fear when Edward's runaway train was going to crash into the new station, Kellsthorpe Road.
It only appeared in the eighth season episode, Thomas Saves the Day.
Gallery