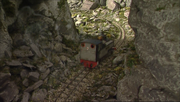 The Cracky Track is a railway line on the Skarloey Railway located in a mountainous area between Ulfstead Castle and the Old Wooden Bridge.
It only appeared in the tenth season episode, Fearless Freddie.
"Welcome to the Steamworks, my friend!"

This article is a stub. You can help by expanding it.