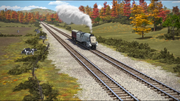 The Cow Field is where James had his first accident when he derailed and had to be rescued by Thomas. The fence was soon repaired afterwards. In the Railway Series it is located between Wellsworth and Crosby.
James' accident appeared in The Railway Series book Thomas the Tank Engine and the television series' first season episode, Thomas and the Breakdown Train, and later in the special, The Adventure Begins.
The Cow Field also appeared in other first season episodes, one ninth season episode, and from the eighteenth season onwards.
Appearances
Specials

Magazine Stories
Gallery