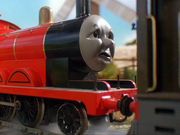 The Country Line is a single track railway line that runs through the countryside which is situated on the Main Line and also has a signal box.
Due to lots of rain, a river started flowing by and eventually flooded the line, causing Percy to become stranded in the flood, but luckily, Harold the helicopter came to drop some supplies for Percy and his crew.
The country line only appeared several times in the third season along with The Valley Bridge.
Gallery
Ad blocker interference detected!
Wikia is a free-to-use site that makes money from advertising. We have a modified experience for viewers using ad blockers

Wikia is not accessible if you've made further modifications. Remove the custom ad blocker rule(s) and the page will load as expected.