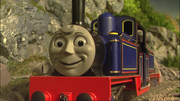 The Campsite is a campground on the Skarloey Railway located northeast of Skarloey, southwest of Rheneas and southeast of Lakeside.
Mighty and Mac once argued on how to get to the campsite and Peter Sam once whilst travelling at night thought that a campfire at the campsite was Proteus' Magic Lamp.
It appeared in the ninth season episodes, Mighty Mac and The Magic Lamp.
Gallery