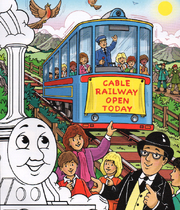 The Cable Railway is a steeply graded railway that uses cables attached to a cable car, which is powered by a stationary engine to haul passenger trains on adversely steep grades. It is located in one of the highest hills of Sodor. The railway is run by Mr. Percival, the Thin Controller, who is also the current manager of the Skarloey and Culdee Fell Railways in the television series. When Mr. Percival announced the railway was being built, Duncan persuaded the other narrow gauge engines to go on strike. It only appeared in the magazine stories, Cliff Ride, The Cliff Railway and Cable Car Cheer!.
Trivia
"Welcome to the Steamworks, my friend!"

This article is a stub. You can help by expanding it.
Ad blocker interference detected!
Wikia is a free-to-use site that makes money from advertising. We have a modified experience for viewers using ad blockers

Wikia is not accessible if you've made further modifications. Remove the custom ad blocker rule(s) and the page will load as expected.