The Aeroplane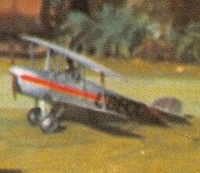 The Aeroplane was only seen at Dryaw in the first season. However, several more aeroplanes can be seen at Dryaw in the annual story, Percy's Passengers.
Basis
The Aeroplane was based on the television series art director, Robert Gauld-Galliers's replica Crockett 64 Nieuport 17. The aircraft built in 1981 by Robert Gauld-Galliers and Lisa Joanna Day.
Appearances
Trivia
It has a clear disc for a propeller.
Gallery